Details

Written by

Tong

Hits: 888

郝少如先師
Hao Shaoru (1908-1983) His name at birth was Mengxiu, but he was later also known as Shaoru. He lived in the West Street, Yongnian County, Guangfu City, Hebei Province. His father was Hao Yueru and his grandfather was Hao Weizhen. Both were famous Taichi masters.

Hao Shaoru had a big and very strong body. His arm strength was above most people just like his grandfather Hao Weizhen. As he grew up in a Wu (Hao) style Taichiquan family, he followed his father and grand father practicing Taichiquan since he was very young. Receiving close instruction from his father and grandfather enabled him to understand the practice and the theory of Taichiquan since he was young. He could get to the core principle of Wu (Hao) Taichiquan since he was only 21 years old and became a Teaching Assistant for the Chinese Martial Art Department of Yongnian County. In 1932 when he was only 24 years old, he became a full time teacher teaching Wu (Hao) Taichiquan in Zhongyang University and to the Supreme Court of Nanjing City with his father. Later on, with the recommendation of Zhang Shiyi, he went to Shanghai City as his father's representative to teach martial art at Shanghai Xinya Pharmaceutical Factory. This was the first time that Wu (Hao) Taichiquan set foot in Shanghai. In 1933, by the recommendation of Wu Shangqian, he also taught martial art in Shanghai middle school and Wujin Zhengde school. In 1937, he opened a Wu (Hao) Taichiquan camp in Shanghai. However, due to the political problems in China during the time of revolution, he decided to quit his martial art teaching life and became a regular staff at Xinya Pharmaceutical Factory for some years. In 1961, Gu Linxin, the Chief of Shanghai Sport Department requested him to teach Wu (Hao) Taichiquan at the Shanghai Sport Complex again. It was there at the Sport Complex that master Li Weiming started practicing Wu (Hao) Taichi martial art with Master Hao Shaoru.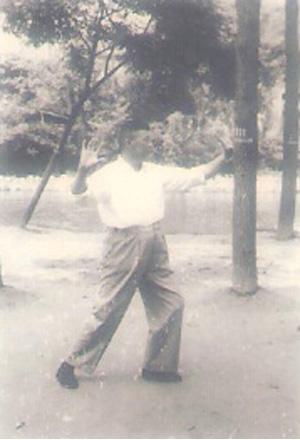 Master Hao Shaoru's photo taken at Shanghai people's park in 1965
Master Hao Shaoru had utmost skill and vast Taichi knowledge, the best kind in both practice and theory. Not only could he explain clearly every single word of Taichi Theory of all three masters, Wang Zongyue, Wu Yuxiang and Li Yishe, but he could also demonstrate the flawless form of Taichiquan as well as explain the principles in depth and in detail correctly and precisely. Therefore, he was acknowledged by all as a very famous, respectable and creditable Wu (Hao) Taichiquan master.

When he performed hand pushing, he could force and control the opponent anyway he wanted without hurting him. A lot of people having witnessed his performance respected him very much. One example of an event was on 5th September, 1964 when he showed the hand pushing in the Shanghai Sport Complex, he used the lift and release techniques called the white goose open wings to lift the rival (Sun Youde) from the front left position up to the sky and turning 180 degree before dropping him to the back right position many meters away from where he stood. This brought great surprise to all audiences in that place. The second example was on 21th December, 1979, when Master Hao Shaoru showed another hand pushing skill in the Luwan District Gymnasium in Shanghai by throwing the opponents from left to right and from the right to left, up to the sky and turning him around his position. It was really an astonishing sight for the audience and for that he got a long thunderous applause from them all. In these events, the Master used purely internal force without a bit of resisting external force. He totally focused on internal Qi and used Qi to unleash power from the inside to control the power of his opponent. Both his hands did not necessarily grasp the opponent because only a touch on the body was enough to make him unable to move. The internal force changes while the outside looks still would also make the opponent feel like falling into a deep abyss, unable to stand firm on his feet. Just when the Master started unleashing his inner force, the opponent would be thrown away irresistibly and uncontrollably before he could know.

Everyone who used to watch his show could feel his great movement and the fullness of the internal force of Master Hao Shaoru. Every single external posture was controlled by the internal force. Jing (force) Qi (internal power) and Sen (focus) were combined in every single movement to make it effective. Master Hao Shaoru believed that Taichiquan is not only a fighting skill but also a kind of art. When Master Hao walked, stood, sat, and slept, the whole body would be just like when he was doing Taichi, that is, Qi circulates in the same manner all the time and it is just like practicing martial art all the time. If someone fell into Master Hao unguarded, while he was standing, that person would undoubtedly be instantly bounced back automatically.

Master Hao Shaoru devoted his whole life to practicing Taichi. The Theory of Taichi that he wrote, compared with other previous masters, is more extensive and more detailed. It expanded Taichi knowledge and made it more complete. In June 1963, the People Sport Publishing of Beijing published one of his book called Wu (Hao) Taichiquan which was recognized the most important book ever developed and published in this style. In this book, Hao Shaoru wrote many valuable tricks that were still unknown to most people. It enhanced people to be able to understand Taichi better and also rectified many misunderstandings that most people had about Taichi. It provided great benefits that could lead to the studying and the development of Taichi in the right direction.

Master Hao Shaoru died on 5th January, 1983 in Shanghai when he was 75 years old. Before he passed away, he adopted Master Li Weiming as his son with a view to accrediting him as the proper descendant of the Wu (Hao) Style Taichi. Master Hao Shaoru was a committee member of Wushu Association of Shanghai and an advisor of Wushu Association of Xuhui district.